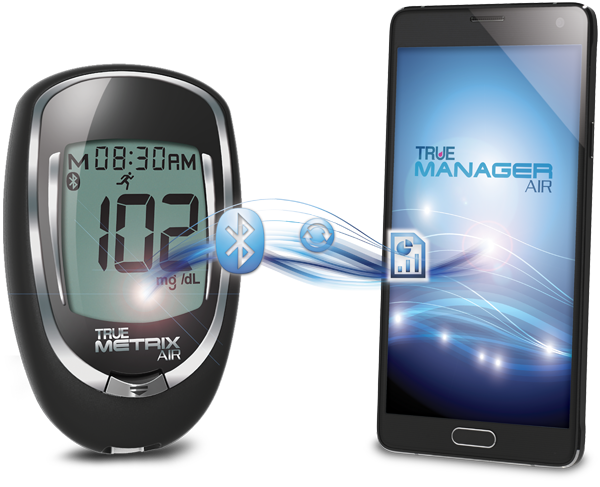 Insight At Your Fingertips
Using certain mobile devices, the TRUE MANAGER™ AIR App wirelessly receives blood glucose results from the TRUE METRIX® AIR Self-Monitoring Blood Glucose meter's memory, helping users track their data and get valuable insights about their daily activity.
Wirelessly sync blood glucose results to mobile device
Manual entry of blood glucose results and multiple event tags
Easy-to-read charts, graphs and customizable notes
Share data with healthcare providers, friends, and family
Visualize blood glucose patterns with the Logbook, Modal Day/Week, Glucose, Averages and Conformance Report
Review all glucose results, including control results, over a specific time period in chronological order. Also shows event tags and color coded results to indicate if within designated target range. Customizable fields enable user to add detailed information to any result, including adding multiple event tags or notes.
Home Page
Shows chart with average blood glucose results ranges, color coded to designated target range, as well as day, date and time last synced to meter.
Modal Day/ Week Report
View all results in specific time blocks per day or week. Color coded for easy review of results within, above or below customized target ranges.
Glucose Trend Report
This graph can be customized by target range, date and time to reveal patterns and to quickly identify glucose readings that are too low or too high.
Averages Report
View 7, 14, 30, 60, 90 and 120 day averages to review general trending and spot areas for improvement.
Conformance Report
This report displays pre- and post- meal glucose results in a pie chart format. Each pie chart is divided into color coded sections identifying the percentage of glucose results that are above, within or below targeted ranges for each testing time.
COMPATIBLE DEVICES
Truth Behind The Numbers
TRUE MANAGER™ AIR App is for use with only specified supported mobile devices.
Learn more about the list of compatible devices.
COMPATIBLE DEVICES
TRUE MANAGER™ AIR App
Pairing, Syncing and Using the TRUE MANAGER™ AIR App with the TRUE METRIX® AIR Self-Monitoring Blood Glucose System.
With integrated wireless capability, results are seamlessly delivered to a linked mobile device to provide simple tracking and insights, empowering users and their healthcare providers to make better decisions for a healthier life.
Android screens shown; iOS screens may look slightly different. Patients must consult a doctor or Healthcare Professional before changing their treatment plan.
The Bluetooth® word mark and logos are registered trademarks owned by Bluetooth SIG, Inc. and any use of such marks by Trividia Health, Inc. is under license. Other trademarks and trade names are those of their respective owners.